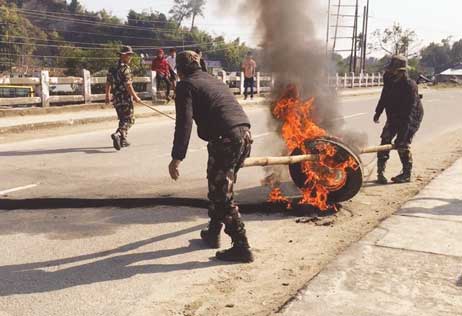 [Nellie N Manpoong]
ITANAGAR, Feb 21: The police arrested 27 persons on Thursday for causing public nuisance and for attempting to disturb law and order in the twin cities of Naharlagun and Itanagar as several organisations called a bandh to protest granting of permanent resident certificates (PRC) to non-APSTs of Changlang and Namsai districts.
The streets of the capital complex wore a deserted look on Thursday from morning till late evening, following the bandh imposed by a conglomeration of organisations, including the All Papum Pare District Students' Union, the Arunachal Law Students' Union, the Nyishi Ethnic Students' Association and the United Arunachal Indigenous People's Forum, opposing the proposal to grant permanent resident certificates to non-APSTs of Changlang and Namsai districts.
A large group of men were seen burning tyres and blocking the roads in Chandranagar and Chimpu areas in the early morning hours, when a police team arrived and gave chase to the protestors.
Under the supervision of Capital SP M Harsha Vardhan, the police team chased the group till the Senki river, located between Chandranagar and Ganga village, and apprehended 12 people.
More arrests were made by late afternoon, and in the evening. Those arrested include 17 from Itanagar, two from Naharlagun, and eight from Nirjuli.
Protestors also damaged some parked private vehicles and a school bus.
Some people also informed that their vehicles were attacked when they had gone out in the early morning hours.
While most government offices remained closed, the staff of the state legislative assembly was escorted in a bus.
Most educational institutes also remained closed, and those who had their examinations had to make it to the centres on foot.
Entrepreneurs who have opened stalls at IG Park as part of the 33rd Statehood Day celebration also expressed apprehension that the bandh would affect the number of visitors. The venue had witnessed thin attendance on the opening day, Wednesday, due to the weather.
One of the stall owners said that, while they were not against the issue, it was wrong on the part of the bandh callers to call for a shutdown during the festival season as they would suffer huge losses.
On Tuesday, the organisations had served an ultimatum to the chief minister, demanding rectification in the joint high power committee's (JHPC) recommendations on the PRC issue by 20 February.