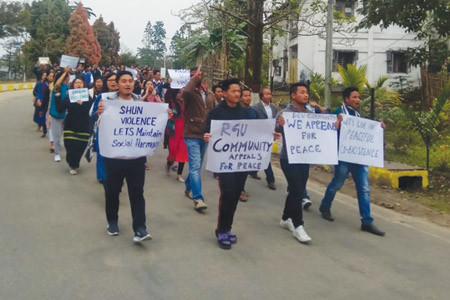 ITANAGAR, Feb 25: The Rajiv Gandhi University (RGU) community has appealed to the people to shun violence and maintain peace.
The RGUTA, the RGUEA, the RGURSF and the RGUSU organised a peace march in the university's campus on Monday, during which they jointly condemned all forms of violence and appealed to community-based organisations and the people of the state to work towards peace-building.
"We have the right to voice our grievances, and a progressive society has no place for violence, be it state perpetuated violence or mob violence," they said in a statement.
The RGU community also condemned the killing of three youths in police firing during the anti-PRC agitation, and offered their deepest condolences to the bereaved families.