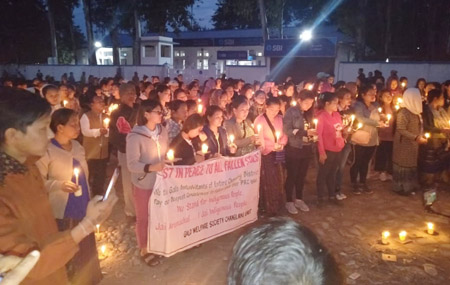 MIAO, Feb 25: Hundreds participated in a candlelight march organised here in Changlang district on Monday by the All Changlang District Students' Union and the Tangsa Students' Union to mourn the untimely demise of three youths in police firing during the anti-PRC agitation in Itanagar.
The march saw the participation of members of the Miao unit of the Arunachal Pradesh Women's Welfare Society, the Yobin Welfare Society, the All Yobin Students' Union, the Yobin Women Welfare Society, the Yobin Youth Association, the Yobin Tribe Fundamental Rights Forum, the Changlang unit of
the Galo Welfare Society, the Miao unit of the Tagin Students' Union, The Singpho Women Organisation, the Miao Singpho Ramma Hpung, Singpho Development Society president Jawkhong Singpho, public leaders, officers, and people from all walks of life.
The candlelight march started from the circuit house and ended at the taxi stand in the market.
There, the participants held a condolence meeting, during which they condemned the state government over its inept handling of the protests by the indigenous people of the state against granting of PRCs to non-APSTs.
The marchers demanded "complete justice for the martyrs in this recent protest and immediate action against the persons responsible for the killings," besides immediate release of the protestors who have been jailed.