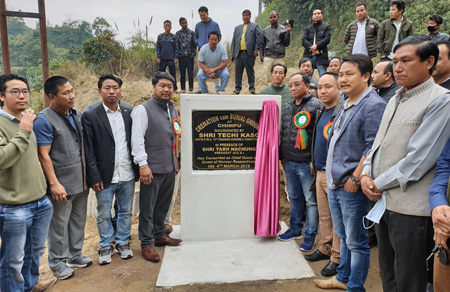 CHIMPU, Mar 4: Itanagar MLA Techi Kaso inaugurated the cremation and burial ground here in Papum Pare district on Monday.
Addressing the gathering, Kaso said the cremation and burial ground was a long-felt demand of the people of the capital complex, "especially the non-tribal brethrens who had to face a lot of trouble and inconvenience for cremation and burials as they had to go all the way to Assam to perform the last rites of their departed ones."
"The family and relatives want the last journey of a dead person to be peaceful. The cremation ground will cater to the need of the capital complex and its adjoining areas.
The Rajdhani burial and cremation ground in Karsingsa will also come up soon," he said.
The land for the cremation and burial ground here was donated by Kaso himself, and the state government provided Rs 3 crore for its construction.
Kaso appealed to the local people not to encroach on the land.
Former IMC deputy chief councillor Tarh Nachung, who accompanied the MLA, urged the people to protect and preserve the burial ground.
Former IMC councillors Tagru Tadik, Biri Tukdo and Tatung Tania, former ASM Bamang Aman, youth leader Tok Tama, businessmen Taro Tagia and Gobind Gupta, and others also spoke.
Urban Development Deputy Director Gyamar Tachung, executive members of the Arunachal Chamber of Commerce & Industries, former IMC councillors, and others were also present at the inauguration.