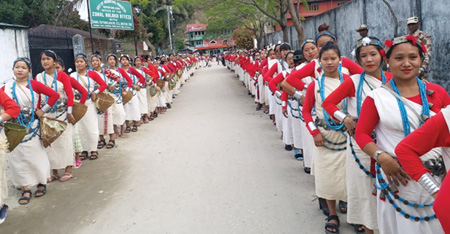 KIMIN Mar 4: The 49th Nyokum Yullo was celebrated here in Papum Pare district in a festive ambience.
The event started with the unfurling of the Nyokum flag by celebration committee chairman Likha Tejji on 24 February, and ended with the bringing down of the flag on the 27th through the Nyokum Dapo ceremony by celebration committee advisor Tai Tayu.
The festival was marked by literary and cultural activities, besides setting up of food and exhibition stalls, sports events, film screening, and other programmes. Star singers like Divyangjan Idol winner Nabam Nyakum and Nyishi Surilli Awaz winner Puji Jhony enthralled the audience with their performances.
In the Mrs Nyokum competition, Tadar Merang emerged the winner. Heri Akum was the first runner-up, and Nangram Anju was the second runner-up. The winner received a cash prize of Rs 25,000, the first runner-up Rs 15,000, and the second runner-up Rs 10,000.
In sports, the volleyball tournaments in both male and female categories were won by the Kimin Kakoi Artist Forum. The football tournament for men was won by Darpa village after defeating Upper Jumi in the final.
In view of the turmoil over the PRC issue, the Nyokum celebration was shut on 24 February and resumed the next day, and concluded peacefully.
PWD Commissioner Bilatee Pertin while attending the main celebration on 26 February urged the people to always protect their traditions and culture.
He termed culture "the root of identity for the tribal communities of the state."
Pertin said the Nyishis, being the big brothers of the state, should show the path to the rest of the state in maintaining and preserving the state's rich arts and cultures. He also said the Christian missionaries played a positive role in the promulgation of education in the tribal regions.
"Their contribution will always be cherished," Pertin said.
PWD Chief Engineer Atop Lego, who was also present on the occasion, commended the rich culture and traditions of the Nyishi community.
State Council for Science & Technology Chairman Bamang Mangha, former ZPM Tai Tayu, PWD EE Tarh Gungkap, youth leader Tadar Tar, HoDs and a large number of people joined the festivity.