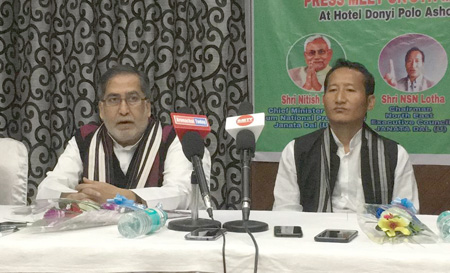 Staff Reporter
ITANAGAR, Mar 6: The Janta Dal (United) on Wednesday announced that it was set to participate in the ensuing assembly election.
Addressing reporters, JD (U) North East executive council general secretary Afaque A Khan informed that the party, in a national executive meeting held in Patna on 4 March, decided to expand the organisation in Arunachal and participate in the upcoming assembly election.
He, however, said that the party will not participate in the parliamentary election in the state.
Also addressing the press briefing, JD (U) NE executive council chairman NSN Lotha said secularism and socialism are the guiding factors of the party.
"As far as secularism is concerned, the JD (U) was the first party in the country to oppose the citizenship amendment bill with national president and Bihar Chief Minister Nitish Kumar coming out openly against the bill. We take pride to convey that we were instrumental in stalling the bill in the Rajya Sabha," he said.
On the mass agitation on the permanent resident certificate (PRC) issue and its consequences, Lotha said "we strongly condemn these kinds of experiments on the future of the indigenous people. We cannot let any political party to play with the lives of the people."
He also assured that the JD(U) will give top priority to local issues, and was hopeful of positive response from the people.
"Looking at the situation, the people are already fed up of the policies of the BJP and the Congress. They have really misruled this important and strategic state of the country. We are hopeful that people will respond to the JD (U)'s clear approach," he said.
The party also made it clear that it has zero tolerance for crime, corruption and communalism, and was hopeful that the people of the state will respond to its principles.
During his stay in the state capital, Khan will meet party members and hold discussions on ways to build the party structure here.