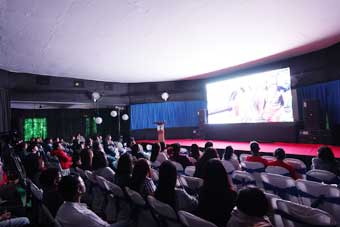 RONO HILLS, Mar 23: 'Borderland Narratives,' the three-day festival of films from contemporary Northeast India, got underway at the Rajiv Gandhi University (RGU)
campus here on Saturday.
The festival will feature 19 filmmakers representing the eight Northeast states. The filmmakers will showcase their films and participate in interactions with the audience.
Addressing the inaugural function, RGU Vice Chancellor Prof Saket Kushwaha commended the partnering organizations for the initiative.
Speaking on the role cinema plays in the society, he said, "Films have true potential to bring out the post-truth. On one hand, they bring out the practices and the truth from the past and from existing cultures, and on the other, they bring out trends to the people, and we learn a lot from that."
Seeking long-term collaboration with RGU, Guwahati (Assam)-based Indira Gandhi National Centre for Arts' (INGCA) NE Regional Director Richa Negi said, "The INGCA concentrates on the tradition and cultural practices in the region, through which the centre can conduct research, surveys and publications of films, and also documentation. The IGNCA is in the process of signing MoU with various universities all over the country to conduct studies in areas of mutual interest."
RGU's Arunachal Institute of Tribal Studies (AITS) Director Prof Simon John said the objective of the festival is to bring filmmakers from the region together.
"We are currently focusing on filmmakers and directors of Northeast India who are making films of different communities in engaging new ways," Prof John said.
Introducing 'Borderland Narratives-2019', festival director Moji Riba said "art has a responsibility to shape the way society evolves," while Prof Jumyir Basar informed about the AITS, which was set up by Prof Tamo Mibang "with a vision to engage research and outreach among the communities in the state."
Later, Profs Kushwaha and Mibang released the newsletter of the Centre for Endangered Languages, as well as the festival booklet.
The opening day's films included Those Songs and Lullabies I Used to Sing by Kombong Darang (CFEL, RGU), Loktak Lairembee by Haobam Paban Kumar (Manipur), Nana by Tiemsumuk Aier (Nagaland), Songs of the Blue Hills by Utpal Borpujari (Assam), and Ralang Road by Karma Takapa (Sikkim).
The festival is being organized by the AITS in collaboration with the IGNCA's NE regional centre, with the CCRD, the Mishmi Takin Centre for Endangered Languages and the RGU's mass communication department as the festival's partners.