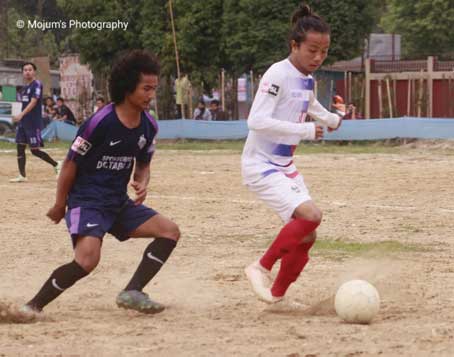 MODEL VILLAGE, Mar 24: The second semifinal of the Model Super League (MSL) saw an intense match between arch rivals Petwa United FC (PUFC) and Commando FC (CFC) here on Sunday afternoon.
Defending champions PUFC took the lead when Dorjee Sherpa headed in the opening goal in the 16th minute. The lead lasted until the 32nd minute when CFC was awarded a penalty, and Dungda Pui scored from the rebound.
Pui scored again in the 29th minute, but Tame Silo of PUFC made it 2-2, ending the match in a draw.
In the first half of extra time, PUFC's substitute Nabam Nagung made a beautiful cross and Techi Tasar headed in the third goal.
It almost seemed over for CFC, but Pui scored his hat-trick and the game went to penalties.
Panye Kuna, Gyamar Kuku, Techi Hina and Tadu Tatung converted for CFC, but Pui's penalty was saved by PUFC goalkeeper Tege Ngomdir.
Tame Gungte, Taw Akash, Techi Tasar, Kakang Beyong and Techi Takar all converted for PUFC.
The match ended 3-3 (5-4).
PUFC and Khampu FC will now battle for the title trophy on 31 March.