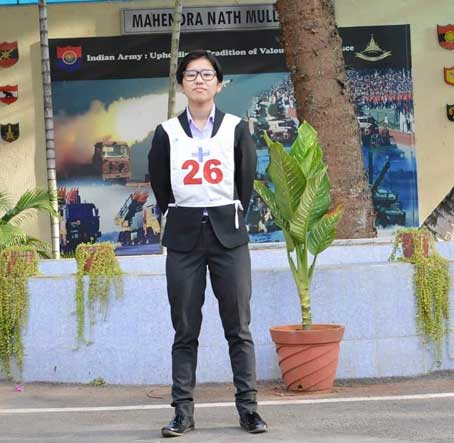 [Karyir Riba]
ROING, Mar 24: "Where there is will, there is a way," quoted the proud father of Ipupu Mena, who is all set to become the first Indian Army officer from the Mishmi (Idu) community, after having topped the Short Service Commission Women (SSCW) exam.
Ipupu qualified for training at the Officers' Training Academy in Chennai (Army All India Rank 1, SSCW, Tech Civil) and, reportedly, after 11 months of training, will be conferred with the rank of lieutenant in the Indian Army.
During a felicitation function organised for Ipupu at the central Rehko here in Lower Dibang Valley district on Sunday, her father, Kotige Mena, said he had never sent his daughter to any expensive school or international school for her education.
"She did her schooling from a local private school, the Intaya Public School (IPS), upto Class 10, and after that her 11th and 12th from VKV Roing," Kotige said.
He said that, as far as his understanding went, international schools had swimming and horse-riding as extra-curricular activities. In order to keep his daughter at par with these, he would take her to all the local rivers to give her swimming lessons. As to horse riding, he said he took her for pony rides at their farm.
Kotige also thanked the doctors of the district for having given the best healthcare to his daughter, even though they lacked modern medicines and facilities. "She had to go through a lot of medical tests to qualify, and she excelled in all these tests," he said.
Sharing her experience all through her preparations for the exam, Ipupu said she was pursuing MTech from the NIT in Jamshedpur but always knew that she wanted to join the army.
She spoke about how, as a schoolgirl, she had heard Major General GD Bakshi speak during a programme. She said she was instantly inspired by him and knew that she wanted to join the army.
She shared with the students present at the function her moments of failure and how she had not given up, and, with support from family and relatives, had topped the exam.
SP Sanjay Kumar Sain congratulated Ipupu and the whole community on her achievement. He said the difference between winners and losers is that winners know what they want and they achieve it.
"However, losers always have excuses and say that there wasn't enough time. We cannot make the sun but we can make the sun run," he said.
Legendary singer of the community, Jati Pulu, said no job is small or big. "What matters most is how well you are doing your job and what your virtue is as a person," he said.
Vijay Swami from the RIWATCH said the credit also goes to Ipupu's parents.
"The environment that her parents have created at home and their behaviour with the children have contributed immensely to this achievement," he said.
IMCLS VP Bhishen Mepo and Sathyanarayan Mundayoor also spoke on.
The programme was organized jointly by the IMCLS, the RIWATCH, the KGIHE, the IPS, the VKV and the EMWEF, and was also attended by Everesters Tine Mena and Muri Linggi, IMCLS president Ginko Linggi, and teachers and students of the IPS, among others.