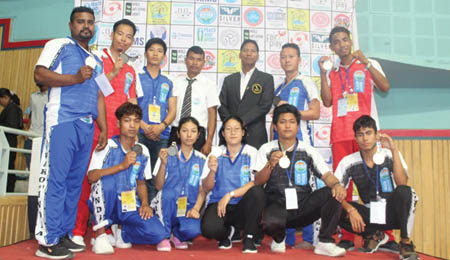 ITANAGAR, Mar 28: The kick-boxers of Arunachal Pradesh returned with 10 medals from the Wako India National Kickboxing Federation Cup 2019, which concluded at Pune, Maharashtra, on Thursday.
The state bagged two gold, three silver and five bronze medals.
While Nanung Darin bagged a gold medal in point fight in the senior category, Anupam Moran bagged the gold in the light contact event in the junior category.
Rajiv Ali and Robin Deori bagged a silver medal each in point fight and full contact events, respectively, while Mui Ama won the third silver medal for the state in the point fight event in the women's senior category.
The bronze medalists are Ragit Bialok (point fight), Jumi Basar (point fight), Bombi Kamdak (point fight), Bristi Gogoi (point fight) and Jumli Kato (point fight), informed Kickboxing Association of Arunachal general secretary Bulang Marik.
The officials were Deepok Saikia (team coach) and Charu Govin (team captain).