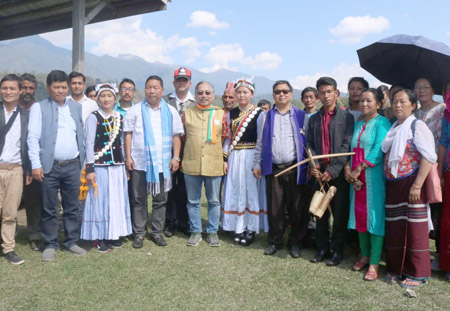 Sanjoy promises construction of Miao-Vijaynagar road
VIJAYNAGAR, Mar 29: Arunachal Pradesh Congress Committee president Takam Sanjoy assured the people here that the construction of the Miao-Vijaynagar road would begin within six months if the Congress is voted to power.
Sanjoy said this during an Indian National Congress (INC) rally held here under the Miao assembly constituency of Changlang district on Friday, during which he highlighted the party's manifesto for the 2019 elections.
He also assured to introduce five-days-a-week air sorties to Vijaynagar till the completion of the road, and further promised to establish better road, rail and air connectivity throughout the state.
Sanjoy said the INC would implement new schemes in the education and health sectors, as well.
Enumerating the party's manifesto, he assured improvement of school infrastructure; free distribution of school uniforms and books, and their timely delivery; improvement of the quality of the midday meals; distribution of free computers and bicycles to economically poor students; and a suitable amount of fixed deposits for the girl children as an incentive.
The party also announced a scheme for offering cash awards to recognize the efforts of teachers, besides providing internet facilities in schools.
In the health sector, Sanjoy said the party hopes to supply free nutritional supplements to BPL-category lactating mothers, besides supplying sanitary napkins
in rural areas, reviewing the health insurance schemes for effective implementation, upgrading the health care centres, etc.
The APCC president was accompanied by the INC's Arunachal East MP candidate James L Wanglat, Miao constituency candidate Chatu Longri, and APCC spokesperson Chera Taya.