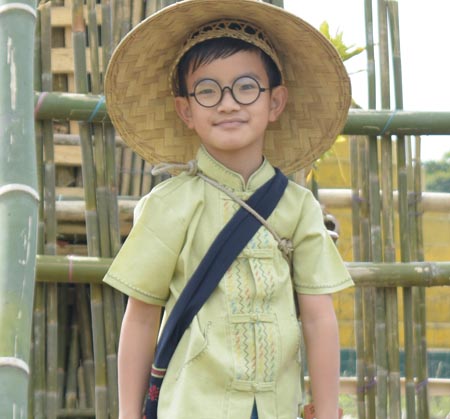 [ Indrajit Tingwa ]
CHONGKHAM, Mar 31: Seven-year-old Chow Oupseng Namchoom from Chongkham village in Namsai district is rocking Mumbai with his mesmerizing performances on Color TV's Rising Star Season 3.
The fourth standard student of Chongkham-based Kids' Foundation School first performed live in the current season of Rising Star on 23 March and scored the highest votes (96%).
Oupseng is currently vying for the top 16, and it all depends on the votes he gets in his next live performance, scheduled for 6 April. The show's season ends in June.
Oupseng is the youngest among the 40 performers of different age groups from almost all the states of India. He had become a sensation on YouTube in 2018 with his partner Anong Singpho. The duo's singing mash-up had even prompted News Live channel of Assam to conduct an interview with them in October last year.
The two had also performed at the promo of the Orange Festival of Adventure and Music back in September last year.
In December last year, Oupseng was called for the Itanagar audition of Rising Star Season 3, but he did not turn up for it. Later, he was again called to the regional audition held in Guwahati (Assam) on 16 January, where he was selected straight to the sets of the singing reality show in Mumbai.
His father, Chow Ingtasha Namchoom, informs that Oupseng has built a good rapport with everybody on the show and is picking up fast to face the challenges. He is not a trained singer, but he has the qualities in him.
With the sensation he has created, there is plenty of hope that Oupseng will do his best. It also depends on how many of the people who love him take out time to download the Voot app and continue voting for him.
Meanwhile, Oupseng has also been roped in by the channel for the promo of Kitchen Champion, along with Aditya Narayan, the singer and host. He has also shot for the Bharti Singh-hosted show Khatra Khatra Khatra.
While the other contestants visit their homes in between performances, Oupseng is busy shooting for other reality shows. That's how his popularity is rising.
Ever since Oupseng went to Mumbai, the Kids' Foundation School family has also been anticipating the best out of him and they are proud of their student taking part in the hit reality show.
Apart from his family, the people of Namsai district have started campaigning, particularly on the social media, in support of little Oupseng.