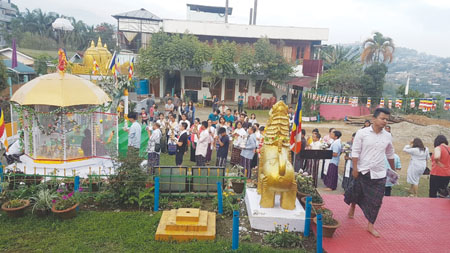 [ Indrajit Tingwa ]
NAMSAI, Apr 14: Sangken festival of the Theravada Buddhists commenced here with the ceremonial 'descent' of the images of the Buddha from the monasteries at 5.21 pm on Sunday.
Sangken is celebrated to usher in the New Year as per the Buddhist religious calendar. The duration of the festival is determined by the religious authorities. The timings for the 'descent' and the 'ascent' of the images of the Buddha, along with other rituals, are published in a widely distributed letter called the 'Sangken Cha'.
This year's time of the ascent from the makeshift temple is fixed at 9.26 pm on 16 April.
During the festival, people pour clean, scented water on the idols. People, irrespective of age, pour water on one another, signifying the cleansing of the body and soul, and wish for purity of self and others.
On Monday, a grand programme is scheduled at Empong, one of the holy shrines of Theravada Buddhism in Arunachal Pradesh, where devotees from various parts of Northeast India are expected to participate in the festivities and seek blessings from the sacred image installed in the shrine.
Prayers for the well-being of all were chanted by the monks.
Sangken was also ushered in at the Golden Pagoda here, and at the Theravada Buddhist temple in Itanagar.