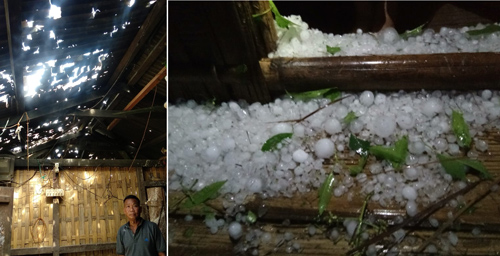 ITANAGAR, Apr 21: Powerful windstorms accompanied by hailstones reportedly wreaked havoc in the foothill areas of Tarasso in Papum Pare and Dissing-Passo and Seijosa in Pakke-Kessang district on Saturday evening.
Sources in Tarasso and Dissing-Passo informed that the hailstones were so powerful they pierced the CGI sheet roofs of several houses and granaries in the two areas. Residents of Dissing-Passo also reported seeing a few injured birds after the hailstorm.
The powerful windstorm also damaged scores of houses and badly damaged agriculture and horticulture fields.
Sources added that some of the residents of Tarasso have been rendered homeless after their houses were damaged.
The circle officer of Dissing-Passo, Bogam Padu, confirmed that swathes of crops and scores of CGI sheet roofs were damaged in the area. He said six villages were affected in Dissing-Passo.
Officials of the Balijan administrative circle in Papum Pare district, including ADC Tasso Gambo, along with officials from the Tarasso circle office and the disaster management, agriculture, horticulture and other departments visited Tarasso circle to assess the damages there. Members of the All Papum Poma Students' Union (APPSU) were also part of the assessment team.
The APPSU later claimed in a press release that the windstorm and hail caused massive damages to government as well as private properties in Tarasso and Balijan circles.
"Many domestic cattle have been killed, and houses and properties amounting to crores of rupees have been destroyed. The roofs of the government secondary school in Tarasso, the government girls' residential school in Bormai, the government residential school in Dariabill and the government primary school in Townhill have been badly damaged," the union claimed.
It requested the state government to provide immediate relief fund to the victims, and to have the school buildings renovated before the start of the academic session.