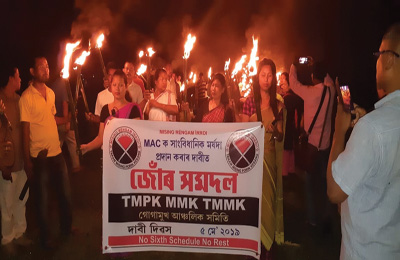 GOGAMUKH, May 5: The Takam Mising Porin Kebang (TMPK) – the apex students' body of the Mising tribe – and its allies, the Mising Mimak Kebang (MMK) and the Takam Mising Mime Kebang (TMMK) on their 'Demand Day' on 5 May reminded the government to fulfill their longstanding demands.
The TMPK and its allies on Sunday submitted a memorandum to Assam Chief Minister Sarbananda Sonowal, reiterating their demand for inclusion of the Mising Autonomous Council (MAC) under the 6th schedule of the constitution and substituting 'Miri' with 'Mising' through a constitutional amendment.
It demanded that the Assam government take prompt initiative to replace 'Miri' with 'Mising'.
"The Misings of Assam and Arunachal Pradesh call themselves as 'Mising'. But at the time of framing the Constitutional Order, 1951, for enlisting the scheduled tribes (ST) of Assam, the Misings were referred to as 'Miri', which we consider a derogatory term used by other people," the memorandum said.
The TMPK also demanded that the government conduct an inquiry into the alleged scholarship scam, book those involved in it, and punish them as per the law.
It said the ST students of the state have not been receiving their scholarships regularly since 2010.
The TMPK alleged misappropriation of the scholarship fund meant for poor ST students by various colleges in Dhemaji and Lakhimpur districts – most of them situated in rural areas and affiliated to Dibrugarh University (DU) – and by numerous "bogus colleges" running under DU without legal affiliation and in violation of the UGC norms.
The organization also demanded that all construction activities on the Subansiri Lower hydropower project in Gerukhamukh be put on hold until a solution is arrived at through a tripartite discussion among the central government, the Assam government and the anti-dam organisations.
Its other demands included introduction of the Mising language as a medium of instruction in Classes 1 to 5 in all the areas predominantly inhabited by Mising people; declaration of flood and erosion as national problems; protection of land in tribal belts and blocks from non-bonafide occupation; early resolution of the Assam-Arunachal boundary dispute; granting wildlife sanctuary status to the Poba reserve forest in Jonai, bordering East Siang district of Arunachal; appointment of sufficient teachers in primary schools; withdrawal of the Constitution (Scheduled Tribes) Order Amendment Bill, 2019, to safeguard the constitutional rights and privileges of the STs of Assam and the rest of India; patenting the Mising dress designs and food products; upgrading all the PHCs; scrapping the citizenship amendment bill; establishing a central university within the jurisdiction of the MAC; immediate construction of the Disangmukh-Tekeliputha bridge over the Brahmaputra river; and early rehabilitation of the flood affected and displaced people of Laika and Dodhia (Dibru Saikhowa).
Meanwhile, 'Demand Day' was observed in all the 10 Mising inhabited districts -Dhemaji, Lakhimpur, Tinsukia, Majuli, Dibrugarh, Sivasagar, Sonitpur, Jorhat, Golaghat and Kamrup (Guwahati) – of Assam.