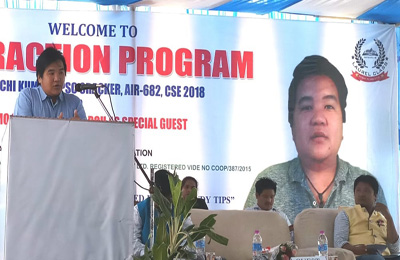 Staff Reporter
NIRJULI, May 7: UPSC-2018 topper and 682nd All India rank holder from Arunachal Pradesh, Techi Kumar, advised students and competitive examination aspirants
to always be ready to work hard and persevere in order to succeed.
He was addressing students during an interaction programme organized by the Laurel Class coaching centre here under the aegis of the Arunachal Pradesh Multipurpose Cooperative Society (APMCS) on Tuesday.
Sharing his experience of appearing for the UPSC exam four consecutive times before clearing it in his fifth attempt, Kumar advised students not to let failure define their future.
"If an average student like me can crack the UPSC then you, too, can. Do not let the marks limit define your aptitude. If you value your time and work hard, you will definitely succeed," Kumar said.
"I was an average student in school, often securing 60 percent marks. You could say I was a below-average student by today's standards, but when I decided to appear for the UPSC exams I did have a target in mind and was focused on my studies," he said, and advised the aspirants and students to take their studies seriously.
He, however, asked students not to keep on cramming up information and instead filter and prioritize what they study.
"If you are spending six hours studying, make those hours count, otherwise it's meaningless. I am not saying that one should study for hours on end, but when you do study, be focused and be disciplined in your approach to study. After study hours, go out with your friends, play a game or do whatever you like, because your mind needs rest too," he said.
The UPSC topper gave the students important tips on how to prepare for competitive exams. He told them that simply collecting and memorizing information is futile as the UPSC exams have become more dynamic over the years and the aspirants need to prepare for it accordingly.
Rajiv Gandhi University Registrar Prof Tomo Riba, who also attended the programme, urged students to value the importance of discipline in life and study hard.
"Luck is another word for hard work and success is the result of hard work," Prof Riba said, and advised the students to constantly improve their skills through persistent efforts.
Earlier, in his inaugural speech, APMCS chairman Likha Teji urged the aspirants of various competitive examinations to shed their inhibitions and make an effort to appear in every competitive examination to gain knowledge and improve their skills.