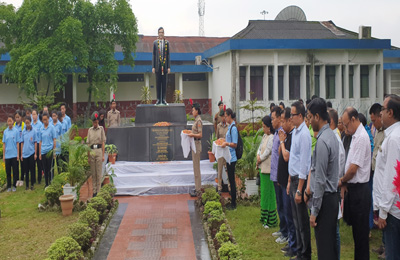 ITANAGAR, May 8: Former education minister late Dera Natung was remembered on his 18th death anniversary here at the Dera Natung Government College (DNGC) premises on Wednesday.
Narrating the life history and activities of late Natung, DNGC principal Dr NT Rikam said, "Natung was a man of simple living and high thinking. He had a vision for revamping education scenario and keenly nurtured the growth and development of education in the state. A great thinker and social worker, Natung also was instrumental in opening of Science stream in this college."
"In recognition of his immense contribution towards the society, especially in the field of education, this college (DNGCI) was named after him on 27 May, 2001 by the state government," Rikam added.
Late Natung was on his way from Bhalukpong to lay the foundation stone for Eklavya Model School at Bana in East Kameng district when his chopper crashed on 8 May, 2001.
Senior BJP leader and DNGC alumni Vijay Sonam, in his address, termed Natung as a visionary leader.
Renowned artist Taba Yall Nabam also spoke on the occasion. A music lover, Natung always hoped that the youth will work for the unity and integrity of community and preservation of cultural heritage and tribal identity, Yall added.
Earlier, floral tribute was paid to the statue of late Natung and two minutes' silence was observed in respect of the great leader.
A plantation programme was also organized where large number of students took part and planted several species of trees around the college campus.