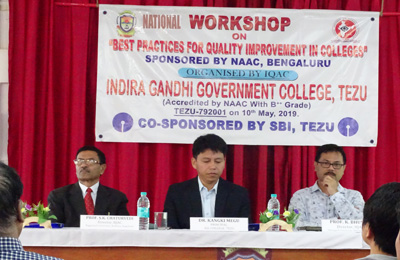 TEZU, May 10: A national workshop on 'Best practices for quality improvement in colleges' was organized by the Indira Gandhi Government College (IGGC) here in Lohit district on Friday.
In his keynote address, Nagaland University's IQAC Director Prof SK Chaturvedi highlighted the seven points for NAAC accreditation, and emphasized on research and publications as "the most important ones for better scores."
He advised the students to undertake objective and original research, without being confused by the volumes of researches on the field or topic concerned.
Prof Chaturvedi presented a paper on 'Publication and peer review', explaining flat as well as multi-dimensional publications, and shared ideas about authorship, peer review, follow-up actions after submission of paper, writing research/manuscript, etc.
Dibrugarh University's (DU) IQAC Director Dr K Bhuyan presented a paper on 'Best practices in higher education', incorporating his experiences during the accreditation process in DU.
He highlighted the importance of benchmarking, and elucidated the best practices in the process of benchmarking for quality enhancement by adopting five strategies – "identification, implementation, institutionalization, internalization, and dissemination of best practices."
IGGC Principal Dr Kangki Megu dwelt on his experiences at RF College, Changlang, and the outcomes of various workshops sponsored by the NAAC, and compared the assessment and accreditation profiles of different institutions of the country.
He emphasized that the higher education institutions should "strive to fulfill the mission and vision for which they have been established."
Dr Megu said he expected that the workshop would come out with concrete recommendations which would be beneficial to different colleges for developing best practices.
IGGC Assistant Professor Dr SK Pradhan presented a paper on 'Best practices for quality improvement in colleges'. He also explained the "conceptual dimension of quality in the wake of revolution in higher education in the 21st century vis-à-vis the quality/quantity debate."
He emphasized on refashioning the higher education system by nurturing excellence and competitiveness.
Earlier, IGGC IQAC coordinator Dr MK Jana highlighted the objective of the workshop. He pointed out that the scope of the workshop has been limited to 'best practices for quality improvement', which, he said, "is the last one out of the seven criteria identified by the NAAC."
The workshop was sponsored by the National Assessment and Accreditation Council and the Tezu branch of the State Bank of India.