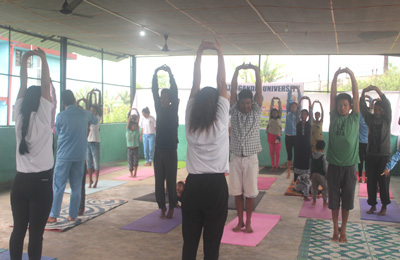 RONO HILLS, May 10: In the run-up to the 5th International Day of Yoga on 21 June, the physical education department of Rajiv Gandhi University (RGU) organized 'yoga awareness camps' at Arunodaya University in Lekhi and RGU's Workers' Colony here on Friday.
Explaining the objective of the camp, the university's Physical Education HoD Dr A Mili said the university, particularly his department, seeks to "connect to the masses through such programmes."
Dr Mili informed the participants that 10 such camps have been planned under the initiative, covering various institutions and organizations in the state capital.
Arunodaya University vice chancellor Dr VN Sharma spoke on the lack of fitness among the citizens of the country, and cited the examples of the hard work and physical activities of renowned sports and film personalities to motivate the participants to practice yoga and other physical exercises.
A large number of workers and their family members participated in the camp, and pledged to lead healthy lives and practice yoga.
The participants at the camps were taught about pranayama and various asanas by the university's students of postgraduate diploma in yoga therapy.
Assistant Professor Dr Vivek Kr Singh spoke on "weight management and nutrition," and explained how a healthy citizen adds to the nation's economy.
Seventy-six persons benefitted from the camps.