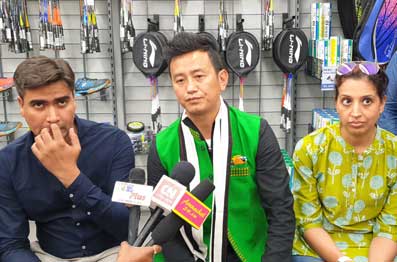 'Help and assist young talents'
ITANAGAR, May 16: Former Indian football captain Bhaichung Bhutia said it is important to help and assist young talents from the state who are interested in pursuing sports as a career, and appealed to the state government to give priority to grooming budding sportspersons.
Bhutia said this while launching Sports Station, a multi-brand, multi-specialty flagship store, located opposite BB Plaza, here on Thursday.
"There are lots of talents from Arunachal Pradesh with the potential to represent the country; but it is unfortunate to see that they are not provided with proper facilities and training," said Bhutia, interacting with the media.
Commending the talents representing the country from Northeast states like Manipur, Mizoram, Assam, Meghalaya and Sikkim, Bhutia said he believes that Arunachal can also produce many sports personalities if proper guidance and facilities are provided.
"There is no denying that the state has many talents. That is why it is important to groom and nurture them," said Bhutia.
He also said he is willing to set up football schools in Arunachal if the state government gives the green signal.
The soccer legend commended the reservation policy of the state government for meritorious sportspersons. He also said the availability of modern sports kits in shops like Sports Station would help in promoting sports in the state.
Sports Station has a plethora of international sports brands, and offers an assortment of options in sports shoes, accessories and sports equipment under one roof.