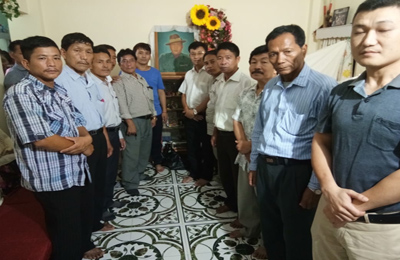 NAHARLAGUN, May 17: The Ex-Servicemen Association of Arunachal Pradesh (ESMAAP) has mourned the demise of honorary captain Lobsang Monpa, who succumbed to a stroke on 15 May at the Tomo Riba Institute of Health & Medical Sciences here.
He was 63, and is survived by his wife, a son and a daughter.
A native of Tawang district, Monpa had joined the 5 Assam Regiment in 1956, and had retired in 2002 after serving the regiment for 28 years. The honorary captain was the first army man from Arunachal Pradesh to rise to the rank of subedar major and retire in the rank of honorary captain. He had also served in the office of the registrar of the Itanagar bench of the Gauhati High Court from 2003 to 2014.
His mortal remains were laid to rest in Tenzingaon in West Kameng district on 17 May.
"He was instrumental in forming the ESMAAP, which gave a window to address the grievances of the ex-servicemen, widows and NOKs in the absence of a full-fledged Rajya Sainik Board, and had served as the ESMAAP president till 2015," the association said in a condolence message.
The ex-servicemen of the capital complex paid their last respects to the departed soul at his residence in D Sector here on Thursday.
"On behalf of all ESM of Arunachal Pradesh, I pray to the almighty to grant eternal peace to the departed soul, and to give strength to the aggrieved family to bear the irreparable loss," said retired IAF wing commander Kago Gyati, who is the president of the ESMAAP.
"All the ESM of Arunachal Pradesh shall remain indebted to him for working tirelessly towards the establishment of the ad-hoc Rajya Sainik Board in the state, and for the creation of the ESMAAP," said ESMAAP vice president, retired lieutenant colonel Bruce Jilee.