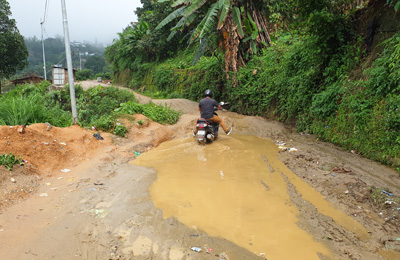 ITANAGAR, May 17: The residents of ESS Sector here have requested the capital complex administration to put a stop to the plying of vehicles on the arterial road in Upper ESS Sector, where a culvert is on the verge of collapse.
The residents said there have been several accidents in the area in the past.
Despite the warning signboard put up by the PWD and the prohibitory order issued by the administration, motorists continue to use the road.
When contacted, the PWD's Capital Division B Executive Engineer, Tarh Gungkap, said the culvert poses a serious threat and may cause an accident at any time.
"We have erected a warning signal and the area has been fenced; but no one heeds the warning and continues to cross the culvert, which is not at all in the interest of the public. Commuters should not use the road as it is not suitable for use," Gungkap said.
He said several correspondences have been made to the capital complex administration and the disaster management department for granting fund to restore the culvert near ESS Sector, which connects the Raj Bhavan, the circuit house and Ganga via the capital SP's office.
"The culvert is on the verge of collapse as most of the portions of the road have been washed away by torrential rains. At present the culvert is hanging like a cliff," said Gungkap.
He added, however, that the state government has approved some fund, and that the tender process will start after the election process is over.