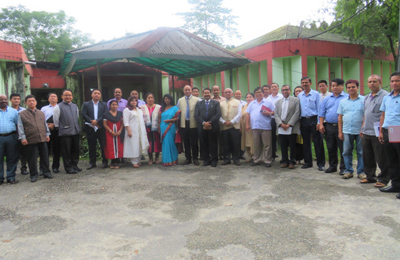 RONO HILLS, May 17: The University Grants Commission (UGC) has instructed Rajiv Gandhi University (RGU) here to use the Hindi language in its official works.
A high-level team of UGC officials, headed by its Joint Secretary Ajay Kumar Khanduri, on Friday visited RGU to conduct an inspection on the use of Hindi in the university.
The UGC officials held a meeting, which was attended by RGU Vice Chancellor Prof Saket Kushwaha, Registrar Prof Tomo Riba and administrative officers, deans and heads of various departments.
The officials emphasized the need to use Hindi in official works like file noting, letter writing, etc. They said RGU, being a central university, should follow the rules of the government in using Hindi as the official language.
Kumar said there is need to establish a "skill developing centre where Hindi speaking, writing, typing, etc, can be trained."
He also advised the Arunachalee people to preserve their local languages and dialects using the Devanagri script.
Advisor Ursela Minz highlighted some specific goals the university should achieve as per the UGC's official language guidelines.
Prof Kushwaha urged the university's officials concerned to "remain prepared and stay updated with the latest tech tools like 'Lila', typing software, etc, in view of the upcoming visit of the Parliamentary Official Language Inspection Committee."
RGU's Hindi Officer Gumpi Nguso briefed the UGC officials on the use of Hindi in the university, and its performance.
The UGC team also inspected all other departments of the university.
The other UGC officials were Section Officer Daial Krishna Sharma and PS Punam Kalara.