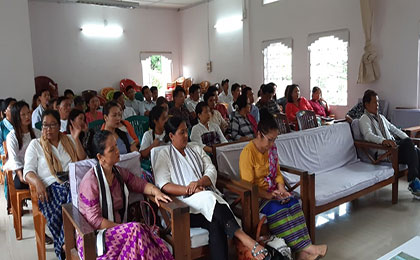 Correspondent
MIAO Jun 24: The two-day Eastern Arunachal Pradesh Tourism Convergence Meet-2019 was organized by HRD branch of the tourism department and supported by the APTOA East at the circuit house here in Changlang district from 23 to 24 June, with the theme 'Tourism for sustainable development'.
This event was a follow up to last six years of training programmes, especially on rural tourism and homestays, which covered more then 65 villages across the state, motivating and training local stakeholders in tourism. These programmes put special emphasis on training women in heritage conservation and economic sustenance.
Recently, this was followed up by three review meetings of homestay owners and eco-adventure guides. The current tourism convergence meet includes initiatives such as setting up a common agenda through meetings and meaningful exchanges between local stakeholders, the tourism department, the forest department, the local government, local tour operators and NGOs involved in conservation tourism and rural development.
Sixty-three stakeholders from Lower Dibang Valley, Upper Dibang Valley, Anjaw, Lohit, Namsai and Changlang districts are participating in the meet.
The common agenda of the Miao Declaration was 'Tourism for sustainable development in eastern Arunachal Pradesh'.
The introductory presentation and concept note was made by state rural tourism & homestay advisor Raj Basu.
The inaugural programme featured presentations by Namdapha Tiger Reserve Assistant Field Director P Tangha, Nav Raj Pradhan of the International Centre for Integrated Mountain Development (ICIMOD), Lower Dibang Valley DTO (in-charge) Anung Lego with Neharika Sahgel Umbrey of A1 Travel, Lohit DTO Dibroo Catherine Boo, Namsai DTO T Tapok with tour operator Engseng Mantow and Pamela Chowlu, owner of The Woodpacker's Nest, Namsai, Changlang DTO Puna Rambya with Rahul Tikhak from Nampong, Miao Pum Tours and Travels CMD Bela Tikhak Namchoom, and Phupla Singpho of Namdapha Tours and Tracks.
There were several inputs from the guides, homestay owners, forest and tourism officials, and NGOs, based on which the Miao Declaration was announced.
To make tourism accessible and sustainable for the development of all stakeholders in the truest sense of the word, a few recommendations were put forward for the state government, such as extending the PAP office to Namsai for the eastern region tourism circuit.
The tour operators suggested that the Changlang DTO office be proposed at either Miao or Jairampur. They suggested that, Pangsau Pass being a part of the circuit, tourists on the circuit be allowed upto the pass without any further permit, adding, however, that permit may be issued to domestic tourists on monthly market days along with local traders to visit Pangsaung village and the Lake of No Return. They also proposed that the Pangsau Pass Winter/International Festival be continued as a state event.
The other suggestions included activation of 'permit at gate' at Namchik and Jairampur, redesigning the Orange Festival in Dambuk to include local stakeholders, allowing tourist permit holders to stay at homestays till Kaho on the Tezu-Hayuliang circuit, developing of homestays and activities, and including local tourism stakeholders by the government, and them in return to volunteer for any tourism activity.
The meeting further emphasized that promotion of tourism through 'Friends of Arunachal' should be enhanced.
The valedictory session with certificates distribution was done in the presence of Miao ADC T Rumi and presided over by Tourism Assistant Director Bengia Manna Sonam.