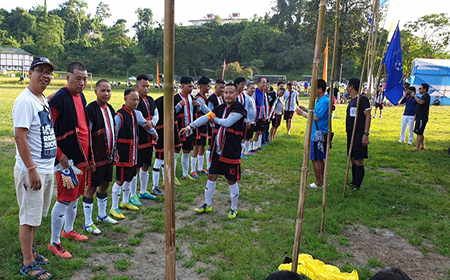 CHIMPU, Aug 17: Dadi Bote sailed into the quarterfinals of the Itanagar Solung Football tournament, along with Siang United FC, from Pool C.
Dadi Bote defeated Bogun Narmi FC 9-1 in their last league level match played at the AAPBn ground here on Saturday.
Dadi Bote earned 10 points from three wins and one draw to remain atop the point table in the group. Siang United FC, with still a match in hand, are in second position with seven points from two wins and a drawn match.
In another match of the day, Narmi FC beat Doying Bote 11 FC 5-1.
In the veteran section, KK Kumdang drew 1-1 with Dadi Bote in an exciting match played in the afternoon.