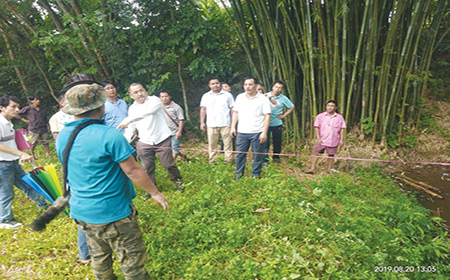 Staff Reporter
RONO HILLS, Aug 20: The survey and demarcation of Rajiv Gandhi University's (RGU) encroached land was held as per schedule on Tuesday morning, and the university is set to get back over 2000 square metres of the originally donated land.
The land behind the university's guesthouse was surveyed by officials of the Doimukh sub-divisional office, in the presence of RGU authorities, land possession certificate (LPC) holders, and members of the RGU Students' Union (RGUSU).
Speaking to reporters after the survey, Doimukh SDO Mokar Riba informed that the RGU had written to his office in May this year. He said a committee was accordingly constituted in June, and its members visited the area for inspection.
"We had to identify the area and the LPCs. We worked out the area occupied by encroachers (landowners) and made a map of the area to compare it with the LPCs of the landowners, and finally identified that over 2000 square metres of the university land had been encroached.
"We will now draw a straight line. The land inside the line will be of the LPC holders. Whatever is outside the line will be of the university," the SDO said.
He said his office has demarcated the land and now it is upto the university to raise a boundary wall.
RGU's Senior Security Officer Badal Techi also informed that he had reported about
the demarcation to the university authorities since his joining in 2002. Techi had also been given the charge of estate officer in the immediate land encroachment matter.
"As far as I know, the claim for land ownership arose when the boundary wall was being erected by the university. According to the LPCs of the landowners, the university was losing land. However, today's survey has clarified all the misconceptions, and the university is now set to gain from it," Techi said.
The RGUSU had also been instrumental in pursuing the matter of land encroachment.
"The decision made today will be concrete and binding. We believe the boundary issue over this particular portion of land has been resolved," RGUSU president Goda Karu said.
He said the union will now place a request with the university authorities to raise a boundary wall on the newly demarcated land at the earliest.
The landowners were also present during the survey, and agreed upon the demarcation carried out by the SDO's office.
While the original map of RGU's land is yet to be traced, government records reveal that 306.60 acres of land had been allotted to the university, as shown on a map. The process for acquisition of the land can be traced back to 1985, under the initiative of the then local MLA Techi Takar, earmarking 302 acres of land donated by the residents of Emchi, Doimukh, Rono, Leka and surrounding areas for the erstwhile Arunachal University.