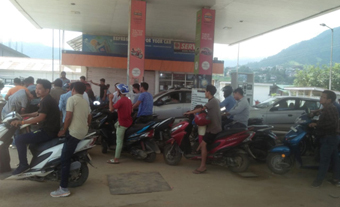 ITANAGAR, Aug 29: Heavy rush was witnessed at the petrol depots in the capital complex and some other parts of the state on Thursday amid rumours that fuel supply to Arunachal had been stopped for the last few days.
People were seen rushing to the petrol depots to stock up on fuel.
It emerged later that the fuel shortage had been caused as the trucks that carry fuel from the Digboi refinery in Assam were unable to move due to flooding in the refinery area.
The fuel trucks are expected to start arriving in the state by Friday morning, as the flood situation in Digboi has improved.