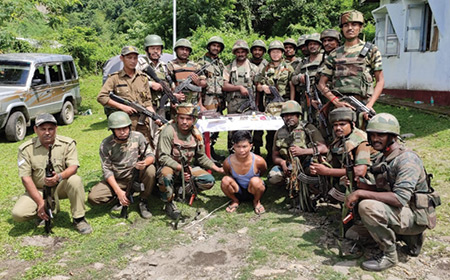 Staff Reporter
TEZU, Aug 31: An operative of the Eastern Naga National Government (ENNG), identified as self-styled sergeant major Kalinjoy Chakma @ Bangalo Chakma, was arrested from Kathan/Diban area in Lohit district in the early hours of 30 August.
Lohit SP DW Thongon informed that the 36-year-old insurgent, from Miao in Changlang district, was arrested during a joint operation conducted by the Wakro police and the 20 Madras Regiment stationed in Chowkham.
The team seized one improvised .22 rifle, two explosives with detonators, five AK-47 live rounds, three .22 rounds, approximately 30 grams of opium, and three mobile handsets from Chakma's possession.
"The arrested accused was wanted in connection with four cases registered at the Wakro police station in connection with a series of extortions, robberies, arson, and activities in violation of the Arms Act in Kathan area," the SP said.
Earlier, the police had arrested two of Kalinjoy's accomplices, Sanjay Chakma and Bikla Chakma, in connection with the same cases, and the duo is currently in judicial custody at the district jail in Tezu, he added.
The police team comprised Wakro PS OC, Inspector Thomas Pertin, Head Constables CS Pangyok and AK Mall, and Constable S Mossang.