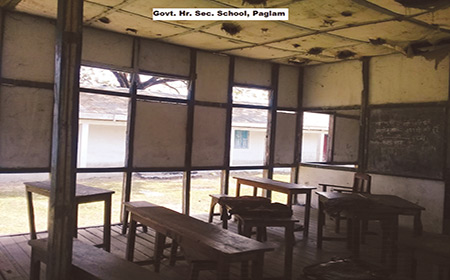 ITANAGAR, Aug 31: Shortage of teachers and teachers' absenteeism, poor infrastructure, and poor access to toilet and sanitation facilities leading to poor academic results have been the common problems shared by a majority of the schools in the state, and some schools in Lower Dibang Valley (LDV) district are no exception.
Members of the LDV unit of the District Border Students' Union recently toured various schools in the district, and claimed to have found that the government higher secondary school in Paglam and the government middle school (GMS) in Keba had deficient infrastructure, shortage of teachers and teachers' quarters, and absence of drinking water facility, electricity, and proper hostels.
"Likewise, there are only six classrooms and four teachers at the GMS in Anpum, and one classroom out of the six is being used as teachers' quarters," the union said.
It said the residential government secondary school in Mayu has only three teachers' quarters against 24 teachers, adding that the school also lacks proper drinking water supply, and that midday meal is also not served at some of the schools.
It urged the Dambuk MLA to accord utmost priority to the education sector, and requested the DDSE to visit the schools to see the problems being faced by the teachers and students.