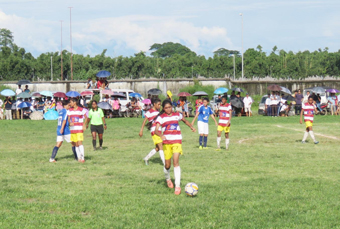 [Prafulla Kaman]
PASIGHAT, Sep 19: Tamil Nadu trounced Madhya Pradesh 4-2 in the first quarterfinal match played at Kiyit (Mebo) in East Siang district on Thursday, and made its way to the semifinals of the 25th Senior Women's National Football Championship (SNWFC).
Similarly, Indian Railways outsmarted Himachal Pradesh 12-0 in the second match, thereby ensuring its entry into the semis.
Host team Arunachal and Manipur are among the teams that have qualified for the quarterfinals.
The host team will lock horns with Odisha on Friday, while Manipur will clash with Jharkand in the quarterfinal match to be conducted on the same day.
Defending champion Manipur entered the quarterfinals, beating Rajasthan 10-0 in the final knockout played on Wednesday, while Jharkhand defeated Uttarakhand 4-0.
Teams including Andhra Pradesh, Karnataka, Uttar Pradesh, Chhattisgarh, Chandigarh, Uttarakhand, Rajasthan and Telengana could not register any win in the championship
The national football event is organized by the All India Football Federation in association with the Arunachal Pradesh Football Association. Twenty-seven teams are participating in the championship.
Notably, the organizers, in view of the worsening condition of the selected playgrounds in Pasighat, have changed the venue of the quarterfinal matches to the Kiyit village playground.