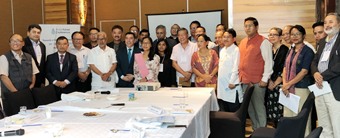 BENGALURU, Sep 26: MPs and MLAs from different hill states of the Indian Himalayan region have proposed starting a 'mountain solutions programme', including a 'water solutions lab', for the Himalayan region.
The proposal was raised during the 'parliamentarians' and legislators' dialogue on water policy for the Indian Himalayan region' held here in Karnataka on Wednesday as part of the ongoing 'Water future conference: Towards a sustainable water future'.
The lawmakers of the Himalayan region emphasized the need for a comprehensive water policy for the states of the Himalayan region, and explored areas of strengthening research, action and policy directions.
They discussed several critical areas of concern with regard to water sources, water quality, management, increasing water scarcity, and the rapid decline in the freshwater biodiversity of the Himalayan region.
Meghalaya MP Agatha Sangma highlighted the rising conflicts caused by water scarcity in many rain-fed areas, and called for reducing the ecological footprints. "Polluting companies should take responsibility for the mess they have created," she said.
Former Sikkim MP, PD Rai, who chaired the conference, emphasized the need for creating "more interactive platforms between the scientific community, policymakers and communities to arrive at better solutions in building towards a water secure future."
Arunachal PHED Minister Wangki Lowang and MLA Zingnu Namchoom attended the conference, organized by the Integrated Mountain Initiative with support from the Divecha Centre for Climate Change.