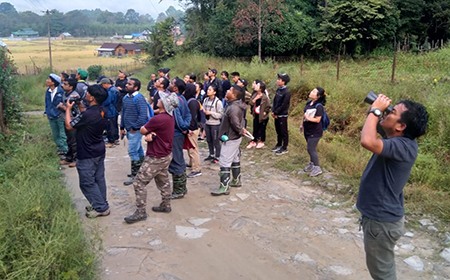 ITANAGAR, Oct 8: Sensitization and awareness programmes on protection of wildlife marked the National Wildlife Week celebration in Arunachal.
A sensitization programme along with bird-watching was organized at Yazali in Lower Subansiri district on 7 October. Similar programmes had earlier been organised at Raga and Tamen-Boasimla in Kamle district, and Ziro in Lower Subansiri. The progr-ammes saw the participation of officials of the district administrations and the police, and members of educational institutions, women SHGs and NGOs.
The participants also took part in Swachta hi Seva programmes, and pledged not to consume wildlife meat.
Hapoli DFO Koj Rinya encouraged the people, particularly the youths, to take up birding as a hobby and as a livelihood option. She said that, as per the wildlife offences registered by the Hapoli forest division, birds were among the most hunted wildlife for food and recreation.
The RFOs of different ranges made PowerPoint presentations on the importance of conserving the biodiversity, legal provisions for wildlife protection, etc.
Members of the Arunachal Pradesh Birding Club (APBC) made a PowerPoint presentation on the basics of birding.
During the field sessions, led by well-known bird guide Lobsang Tsering, more than 100 birds were recorded, including rare species like the spot-throated babbler, the grey-headed parrot bill, the Eurasian marsh harrier, etc.
The APBC members informed that a signature campaign for regulation of air gun licences and ammunitions received good response from the participants.
The programme was organised by the Hapoli forest division in collaboration with the APBC.
The Kamlang Tiger Reserve and the Wakro WLS division in Lohit district organized activities like drawing competition, tree plantation, and awareness meetings in the fringe areas on the importance of conserving the biodiversity and wildlife.
The celebration started on 2 October with students, officials and others pledging to protect the wildlife and not use single-use plastic, followed by a cleanliness drive and a tree plantation drive.
The celebration culminated with a workshop, which was organized in collaboration with the Ashoka Trust for Research in Ecology & Environment (ATREE) for the field staff of the tiger reserve and the villagers of the fringe areas.
Resource persons from the ATREE imparted training on the importance of forests and wildlife habitats in Arunachal, bird, butterfly and moth identification techniques, and identification of mammals. They also presented a practical demonstration on GPS- and camera trap-handling techniques.