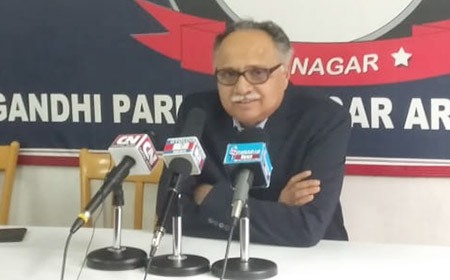 Staff Reporter
ITANAGAR, Oct 10: "There are 220 cancer cases per lakh, per year in Arunachal, while it is hovering around 125 per lakh, per year in the rest of the country," informed New Delhi's Max Institute of Cancer Care's chairman Dr Harit Chaturvedi.
Addressing reporters here on Thursday, the senior oncologist spoke on how cancer is a growing problem, especially in the northeastern states, with tobacco and food habits being two of the important cancer causative primary factors.
"We want to improve awareness on cancer in collaboration with the society to strengthen the pitch against tobacco and food habits.
I am sure there are a lot of interventions possible at the community level. Educational programmes at the school level will also help bring these transformations early," he said.
Dr Chaturvedi highlighted the new tools and technology available to assess and evaluate the types and stages of cancer.
"In certain situations, advanced cancer, which was not curable five years ago, is curable today," he said.
Informing that two-thirds of different types of cancers are preventable, he stressed on the necessity of implementing the Cigarettes and Other Tobacco Products Act (COTPA) to prevent cancer.
"More than 40 percent of cancer happens just because of tobacco usage. If we implement the COTPA with full power and energy as a community, we can prevent most cancers. Arunachal, like all other societies and states, has to keep reinforcing, keep working, and keep building, so that we are able to control the menace of cancer," he said.