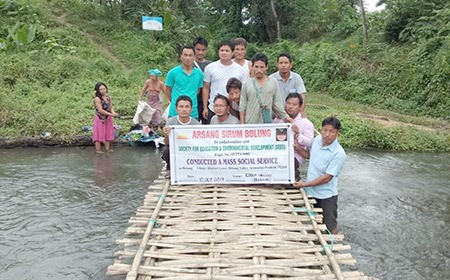 BOLUNG, Oct 10: Members of the Arsang Sirum (AS) in collaboration with the Society for Education and Environmental Development (SEED) have constructed a bamboo bridge over the Jia river to connect Gobuk village with Bolung, in Lower Dibang Valley district.
Lauding the initiative, the senior most resident of the area, Pakong Pertin, commended the AS for its selfless effort to connect Gobuk with Bolung.
AS members and SEED activists Tokek Borang, Kamin Pertin, Mingge Langkam and Aken Jamoh encouraged the younger generation of the village to be involved in social activities.