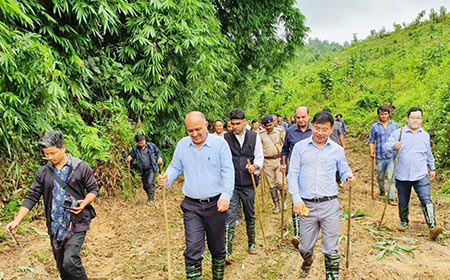 BANDERDEWA, Oct 25: A high level team led by Chief Secretary Naresh Kumar on Friday inspected the site for proposed Mega Food Park here in Papum Pare district. The mega project was approved by the Central government for Arunachal Pradesh.
A high level officer from the team said that the main agenda and motto of establishing the Mega Food park by the Union Ministry of Food Processing Industries (MoFPI), is to boost up the food processing industries in the region. Thirty food processing industries will be established in the park and local farmers of the area are expected to get benefit from it. Around four thousand local people especially farmers and unemployed youths of the area will get employment opportunities for the livelihood and sustainability, the officer said.
Naresh Kumar informed that Arunachal Pradesh is the food bowl where all types of agri and horti crops can be cultivated and the farmers can avail maximum benefit out of it. He said 'the government will provide platform for backward and forward linkage so that the farmers can get maximum benefit.' Further the CS said that establishment of such mega food park will help farmers to double their income.
He also appreciated the promoter, Likha Maj for providing around 75 acres of land for the establishment of mega food park in the state. CS also assured to provide the basic logistic support for early commissioning of the park.
The team includes Commissioner (Power) G S Meena, Secretary (Planning) Himanshu Gupta, Secretary (Industries) N T Glow, Secretary (Agriculture/Horticulture) Bidol Tayeng, Director (Industries) Habung Donyi, PHED Chief Engineer Toko Jyoti, and others.