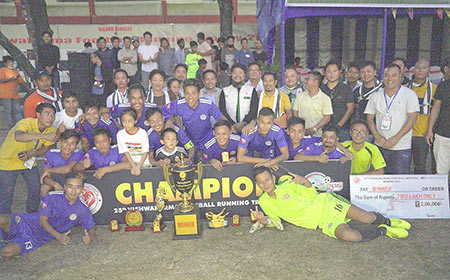 CHIMPU, Oct 28: Manipuri FC won the 25th Vishwakarma Running Trophy Football Tournament, beating Gohpur SC 4-0 in the final played at the KV No 2 playground here on Sunday.
Rupachandra scored a brace while Lengakpa and Toni Salam netted a goal each for the winning team.
Manipuri FC's Disingam Gangmei was declared the best player of the tournament, while Punilkanta Paonam of the same team was adjudged the best goalkeeper.
Biri Chatey of Chimpu United was chosen as the 'emerging player' of the tournament, while Tagru James of 5/1 United FC became the highest scorer.
The award for the 'fair play team' went to 5/1 United FC.
Likha Gago of Champion FC and Raju Chaudhary of Manipuri FC were declared the best coach and the best manager, respectively.
Among others, Arunachal Chamber of Commerce and Industries president Tarh Nachung and BJYM president Taring Tiri attended the closing ceremony.
The tournament was organized by the Lion Club Chimpu.