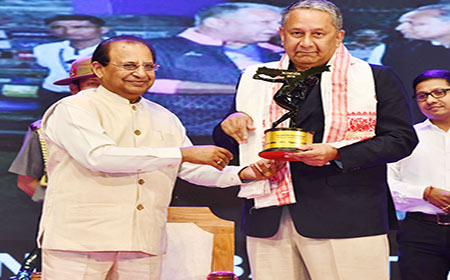 GUWAHATI, Oct 30: Ranjit Barthakur, founder and president of the Balipara Foundation has been conferred with the Achiever Awards for Corporate Excellence by Pratidin Group at a ceremony here in Assam on Saturday last.
Governor of Assam Jagdish Mukhi conferred Ranjit with the award in presence of Assam Chief Minister Sarbananda Sonowal.
Barthakur is known for his exceptional initiatives and achievements for over 40 years in diverse fields of business management, social entrepreneurship and consulting with extensive expertise in FMCG, information technology and sustainable development.
Through his position as a senior advisor, Northeast programmes with the Tata Trusts, he has been working to create development impact in areas of health, education and livelihoods.
He is the chairman and in the board of trustees of Operation Smile India, which is the largest worldwide humanitarian NGO dedicated to providing treatment to children born with cleft. Under his chairmanship, Operation Smile India has conducted free medical evaluations for over 35,000 patients and provided free corrective surgeries to more than 25,000 patients.
He is also a Trustee of Tata Eastern Medical Trust, striving towards cancer cure. He is currently the executive chairman of the Indian Premier League team, Rajasthan Royals.
He also serves on the Board of Agilisys Asia, a leading technology solutions provider, and Blenheim Chalcot, a venture capital organization.
He is currently a director at Clearscore, amongst the leading FinTech businesses in the world, chairman of Amalgamated Plantations (formerly Tata Tea), an emergent entity from divestment of the plantation business and chairman of the Northeast Advisory Council of the Federation of the Indian Chamber of Commerce and Industries.
Under the guidance and mentorship of Barthakur, upgrade of Industrial Training Institutes in the entire North East India has taken place under PPP mode in collaboration with Tata Motors, Hindustan Unilever, Kirloskar, Mahindra, TCS, Taj Hotels, etc.
Under his leadership seven ITIs have been installed with state-of-the-art training facility which includes driver's training simulator which has produced more than 500 trained drivers, both men and women. In 2012, he founded the APPL Foundation which focuses on the fields of education, healthcare & employment.
Apart from being president and founder of the Balipara Foundation, Ranjit also serves on the boards of multiple nonprofits, pursuing his vision of social good in the Northeast region. He is currently a member of the governing board of Ashoka Trust for Research and Ecology, the governing body of the Northeast Initiative Development Agency, Moran Blind School and the advisory council of British Asian Trust; Trustee of the Devki Devi Foundation Max Healthcare, the Tata Eastern Medical Trust, the Varanasi Welfare Trust and the APPL Foundation; and is the founding member of Sahapedia, a knowledge platform for disseminating information about India's cultural heritage.
In 2007, he founded the Balipara Foundation which works towards community development and conservation of natural resources in the region through the concepts of naturenomics and rural futures.