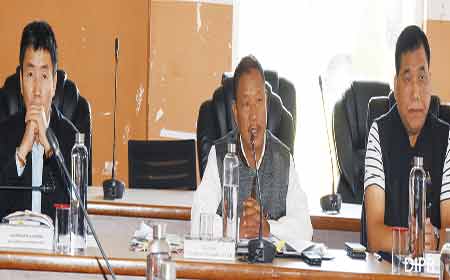 ITANAGAR, Nov 5: Several organisations of the state on Tuesday made their stand clear on the citizenship amendment bill (CAB), strongly opposing its implementation, during a meeting convened by the consultative committee on the CAB.
Home Minister Bamang Felix, who is the chairman of the committee, held the meeting with various stakeholders, including the heads of the community-based organisations (CBO) under the umbrella of the Arunachal Indigenous Tribes Forum (AITF), and other NGOs of the state to seek their views, opinions and suggestions on the issue.
During the course of the meeting, the representatives offered their opinions and suggestions, and submitted representations to the chairman. They vowed to protect the rights of the indigenous people of the state.
In response to the views and opinions expressed, and the representations forwarded by the AITF on behalf of the CBOs and NGOs, Felix said
the views offered by the stakeholders would be recommended to the government.
He requested the stakeholders to be "partners of the state government to make Arunachal one of the most peaceful, progressive and stable states in the country under the leadership of Chief Minister Pema Khandu."
Besides the members of the CBOs affiliated to the AITF, representatives of the Arunachal Pradesh Women's Welfare Society (APWWS), the NEFA Indigenous Human Rights Organisation and several other NGOs participated in the meeting.
APWWS opposes CAB
Meanwhile, the APWWS has expressed vehement opposition to the possible reintroduction of the CAB, saying it would have a "cascading effect" on Arunachal as the state already has refugees.
"While they (the refugees) deserve all the rights, we must not forget that Arunachal is a protected state under the Bengal Eastern Frontier Regulation, 1873," the APWWS said in a representation to the committee's chairman.
"The local dynamics are different in Arunachal. With the introduction of the CAB, there will be violence as people are deeply protective about their identity. There is already simmering anger against the Supreme Court's decision to grant Indian citizenship to the Chakma and Hajong refugees. Any move to bolster the decision of the Supreme Court will result in violence,' the representation said.
It added: "If the CAB is brought in, we fear that our state will become home to refugees who are already here and other illegal migrants from the neighbouring countries." (DIPR, with inputs)