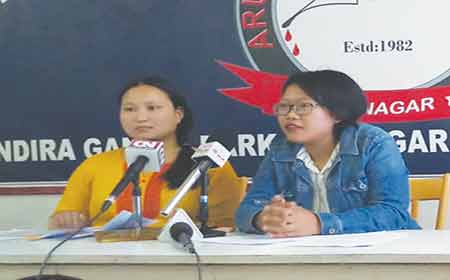 Staff Reporter
ITANAGAR, Nov 5: The second edition of the annual literary event, the Arunachal Literature & Art Festival (ALAF), will begin on 8 November at the annexe ground of IG Park here.
Sponsored by the tourism department, this year the event will comprise three days of creative literary festivities, from 8 to 10 November, featuring a number of artists, writers and publishers.
Speaking to journalists at the Arunachal Press Club here on Tuesday, the event's creative head, Pinkey Veo, narrated the activities which have been planned for the event which would feature a book fair, book releases, art exhibitions, a writers' panel discussion, an open mike poetry session, talks, and open interaction with prominent artists and writers from across the country, besides musical performances.
"This year we have the state's prominent writer and Padma Shri Award winner Mamang Dai as one of our guests, along with eminent journalist Teresa Rehman, who will be launching her book Bulletproof: Journalism in North East India, besides Tumbom Riba Lily, who
will also be launching her book, Katam. There will also be poetry reading by Danish Iqbal. Among other things, there will be a musical performance by the Bottle Rockets India," she added.
Stating that the event is open to all, art curator Bhanu Tatak invited all to attend the event to witness the talented artists and take part in the celebration of art and literature.
"It is a kind of melting pot of all artists who will gather here to celebrate creativity through various mediums and activities. We have a number of talented people in our state, which is proven by the fact that a big number of them are participating in the event," she said.