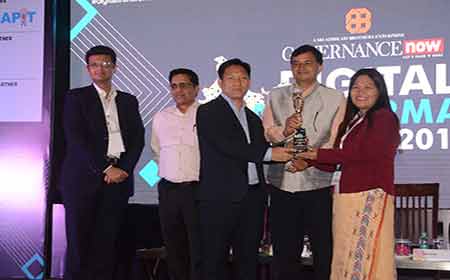 NEW DELHI, Nov 6: The "e-Inner Line Permit (eILP)", implemented by the state IT&C department by using technology to get ILP smoothly to visit Arunachal Pradesh, has been conferred with 'Digital Transformation Award 2019' by Governance Now during the 3rd Digital Transformation Summit & Awards held on 6th November here in the national capital.
Receiving the award on behalf of the government of Arunachal Pradesh, IT&C Director Neelam Yapin Tana and Joint Director Hano Takka said that "this is a huge motivation for the IT department and with the
implementation of e-ILP there has been huge increase in number of tourists visiting the state, thereby boosting the tourism scenario and opening up the economy to newer and exciting possibilities."
The award was conferred by Indian Institute of Public Administration Director SN Tripathi and Governing Council of CRIS Member Vinit Goenka, under end-to-end digital service in e-Governance for the most innovative and effective projects which have demonstrated excellent usage of technology for creating maximum impact with respect to demonstrating e-governance.
It may be mentioned here that the eILP project was launched by Chief Minister Pema Khandu (www.arunachalilp.com) that provides visitors to apply and obtain the mandatory ILP online from anywhere in the country. This system was conceptualized by State Council for IT and e-Governance. The system allows online submission of required documents, photograph and payment by a visitor or group of visitors. The system is mobile responsive and hence the ILP now issued will be paperless.