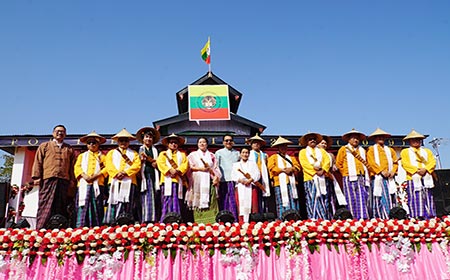 NAMSAI, Nov 27: The celebration of New Year festival of the Tai Khamti community 'Poi Pee Mau Tai 2114' commenced here on Wednesday at Nalung festival ground located near Golden Pagoda in Namsai district. The festival celebration, which will conclude on Friday, is being celebrated by the Tai Khamti as per their lunar calendar.
Attending the inaugural day of the festival, State Home Minister Bamang Felix wished the Tai people of the dawn of a new year and appreciated the efforts at keeping the age-old heritage and culture alive. 'In this kind of celebration, the organizer should invite community leaders of other tribe, instead of ministers and MLAs, so that bonding between various communities of state gets strong,' Felix said.
Taking the opportunity he spoke about Hamara Arunachal Abhiyan (HAA) which is a brainchild of the government to make the common people part of the law and order machinery and help in effective policing. He also raised concerns on the prevailing drug menace in the area and said that it was the responsibility of all the stakeholders to come out and fight the menace for a vibrant society.
Deputy Chief Minister Chowna Mein spoke on the background of celebrating the New Year festival and encouraged the younger generation to imbibe the age old cultural heritage. He appealed the youths to work towards a bright future for self and the society. He also touched upon HAA and the apprehensions over CAB 2016. He informed that the state government will not accept CAB 2016 in the larger interest of the people of the state. He further assured that the present government will not take any steps contrary to the wishes of the people. Mein also dwelt on the menace of drugs and appealed all to collectively make efforts to contain the dangers posed by drug abuse.
Mein was earlier felicitated by the festival celebration committee for his long and sustained efforts in preserving and promoting the Tai Khamti culture and literature.
Lumla MLA Jambey Tashi and Pasighat West MLA Ninong Ering also spoke and wished people on the occasion.
Among others, Namsai MLA Chow Zingnu Namchoom, the chiefs and members of CBOs, HoDs, including the DC and SP were also present.
Later a traditional boat race took place which was followed by dance performance. The cultural troupes representing various Tai ethnic communities including those from Assam and Manipur also participated in various activities on the first day of the fest.