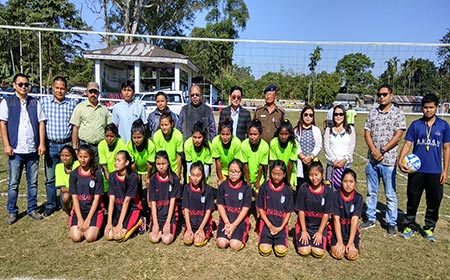 NAMSAI, Dec 4: The district level football and volleyball tournaments for the 4th Hangpan Dada Memorial Trophy (HDMT) for Namsai were conducted at APIL ground on 3 and 4 December.
Lekang clinched the boys' and girls' football and girls' volleyball titles while Namsai won the boys' volleyball title.
Lekang became champion beating Chongkham 5-1 in the boys' football final, while it beat the same opponent 3-0 in the girls' football final. The girls' team from Lekang beat Namsai in volleyball in straight sets to win the title.
Lekang were the runners up in the boys' volleyball.
The winners will represent Namsai at the state level tournament.
Sunday Bodo and Baslina Kishan were adjudged as the best male and female football players respectively while Nang Vishakha Mannow and Bikram Gogoi were declared as the best female and male volleyball players respectively.
All the winning teams were awarded Rs 50,000 each while the runners up teams were given Rs 25,000 each. The prizes to the winners were given away by Namsai Deputy Commissioner B Talukdar and ADC O Lego.
Yingkiong DIPRO adds: The district level HDMT tournaments for Upper Siang were conducted at Yingkiong general ground.
Yingkiong block clinched the boys and girls football and girls volleyball titles while Palling block became the winner of the boys volleyball. They will represent Upper Siang at the state level tournament to be held in Itanagar.
Upper Siang DC Taper Pada, HoDs, public leaders, GBs and district unit members of the ABK's women wing and Women's Welfare Society attended the closing ceremony.