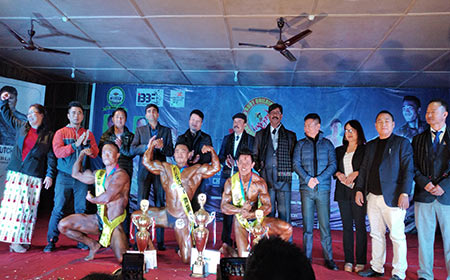 ROING, Dec 24: Nabam Abu won the 'Champion of the champions' title in the 7th state-level Mr Arunachal bodybuilding championship, which was held here Lower Dibang Valley district, according to a delayed report from the organising committee.
Vijay Maying and Satyajit Tayeng won the second and third position, respectively.
Eighty bodybuilders earlier flexed their muscles for the top honours in their respective weight categories. The championship was held in six different age categories, besides the differently-abled category.
Among others, local MLA Mutchu MIthi and DC Mitali Namchoom witnessed the event.
The results:
(55 kg): Hira Chutia (first), Bikeso Tamblu (second), Khagen Mili (third); (60 kg): Aman Duku (first), Bijoy Sarkar (second), Ijum Angu (third); (65 kg): Banti Roy (first), Taluk Bage (second), Nabam Tayu (third); (70 kg): Satyajit Tayeng (first), Akash Tamang (second); (75 kg): Nabam Abu (first), Rohit Subba (second); (80 kg): Vijay Maying (first).
Differently abled category: Techi Sonu (first), Tarh Radhe (second); (masters/veterans category): Tamchi Mabu (first), Amrajit Kushwaha (second), Tirtha Tamang (third); (Men physique): Raj Rabha (first), Naying Ajoy (second), Toku Abraham (third); (Women physique): Hillang Naji (first), Yami Tawe (second), Lusy Singhi (third).