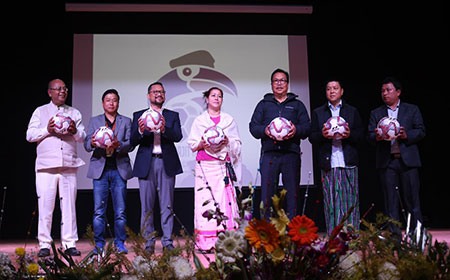 [ Indrajit Tingwa ]
NAMSAI, Jan 27: Deputy Chief Minister Chowna Mein launched the Indrajit Namchoom Arunachal League (INAL)-2020 at the multipurpose cultural hall here on Sunday.
The football league is organised in memory of legendary footballer Indrajit Namchoom, who represented India in the international stage. He was popularly known as the pathfinder of sports in Arunachal. The league is organised by the Arunachal Pradesh Football Association (APFA).
The DCM, who is also the chief patron of INAL-2020, said "legendry football star Indrajit Namchoom's contributions to football have finally been recognized by the APFA through the INAL."
The league will be kicked off on 12 February at the Sangey Lhaden Sports Academy in Chimpu, Itanagar.
"The sports department is late in recognizing the contributions of late Indrajit Namchoom. However, I thank the APFA for organising the league in Indrajit Namchoom's name. This is a long due tribute and recognition to the great footballer," Mein said.
Speaking about the legendary footballer's career, the DCM said Namchoom had played for major clubs in Guwahati (Assam), including the Guwahati Town Club, and had subsequently been being made the captain of the Indian junior team.
"He also led the Indian team in Saigon," Mein said, and recalled many football players from Namsai district who created a niche for themselves, including his elder brother, late Sujit Gohain Mein.
Describing Namsai as "a cradle of many such footballers," Mein said the district is "still home to many budding and talented players who are lurking to find a proper platform."
He requested union MoS (Independent) for Sports & Youth Affairs, Kiren Rijiju, to sanction "one out of the 12 sanctioned football stadiums in Namsai to be named after late Indrajit Namchoom."
Indrajit's eldest son, Dr Anand Namchoom, thanked the APFA "for launching the state's highest league football" in the name of his father.
Dr Anand described his father as "a person who started from humble beginnings from Chongkham village and went on to make a mark in football, and later became a bureaucrat, and still later on plunged into active politics and also became a minister."
Indrajit Namchoom was the first sports minister of the state with a sporting background.
A short promo of the league was also screened during the ceremony.
Former teammates and friends of Indrajit Namchoom were also present to witness the occasion.
Dr Girish Phukan recalled late Namchoom as a bosom friend, and spoke about how they had played together. Another teammate, Tusen Borah, who was himself a football star in his time, described Namchoom as an institute and credited Namchoom for inspiring him to learn the art of footballing.
Borah said that it was at the calling of Indrajit Namchoom that he had gone to Guwahati, where he, too, made a mark in football.
APFA secretary Kipa Ajay and Namsai District Football Association president Chow Mahajini Choupoo also spoke.
The DCM, along with Namsai MLA Chau Zingnu Namchoom, Lekang MLA Jummum Ete Deori, APFA members and family members of Namchoom also launched the champion's trophy and the official ball for the league.
Earlier, APFA members felicitated the family members of Namchoom. Later, the APFA members, led by Ajay, presented a jersey bearing the number seven to Dr Anand Namchoom. Jersey No 7 had been worn by Anand's father during two international championships held in Saigon (Vietnam) and Malaysia in 1964.
An exhibition match was played between DCM XI and APFA XI.
Among others, former MLAs CK Manpoong and Nang Sati Mein, and Namsai DC Bijoy Talukdar were present.