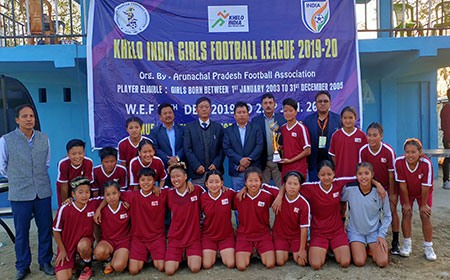 LIKABALI, Jan 28: Capital Complex FC won the Khelo India U-17 Girls Football League-2020, defeating Eleven Sister FC of Lower Siang 6-1 in the final match played at Chiduchigo Football Stadium here in Lower Siang district on Tuesday.
Tamo Kuniya scored a hat-trick for Capital Complex, while Kai Rumi scored two and captain Gyani Ramching scored one for the winning side.
Rubu Gowala scored a consolation goal for Eleven Sisters.
Observer from the All India Football Federation, Jatin Borah, Lower Siang ADC Sode Potom, and DFO Bajum Taba witnessed the final match.
Arunachal Pradesh Football Association (APFA) secretary Kipa Ajay, APFA competition director John Neelam, and member Kipa Niba were also present during the closing ceremony.
The football league was a part of the sports ministry's initiative to develop women's football in the country.
Twenty-five teams took part in the league, which was organised by the APFA.