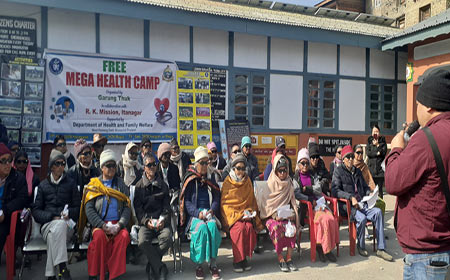 SHERGAON/RUPA, Feb 1: As many as 1492 patients benefitted from two health camps, spread over three days, organised by NGO Garung Thuk, in collaboration with Ramakrishna Mission Hospital, Itanagar, and the Tawang district health & family welfare department.
The camps, which concluded on Friday, were held at the Shergaon and the Rupa CHC on 29 January and from 30-31 January, respectively. Patients from Jigaon, Thungri, Tenga, Dirang and Tawang took part in it.
A medical team comprising Drs Rinchin Dorjee Megeji (cardiologist), Dacto Gara (surgeon), Kesang W Thongdok (ENT), Rinchin Thongchi (medicine), Lobsang Tsetim (ophthalmologist), Tasso Byai (paediatrician), and Tenzin Kunga (gynaecologist) attended to the patients.