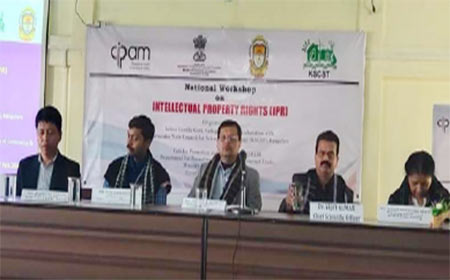 TEZU, Feb 4: Students and faculty members of Indira Gandhi Government College (IGGC) here in Lohit district, along with delegates from JN College, Pasighat, and Government Model College, Roing, participated in a national workshop on intellectual property rights here on Tuesday.
The workshop was organised by the IGGC, in collaboration with the Karnataka State Council for Science & Technology (KSCST) and the union commerce & industry ministry's cell for promotion & management.
Addressing the participants, IGGC Principal Dr Kangki Megu highlighted the importance of intellectual property rights, "especially in the field of copyrights and patenting."
He lauded the Idu tribe for patenting their indigenous food and costume.
Dr Megu expressed optimism that the workshop would make the participants aware of the various dimensions of intellectual property rights.
KSCST Executive Secretary Hemant Kumar, Chief Scientific Officer Dr Vijay Kumar, consultant Vivek Anand Sagar, and RIWATCH visiting professor Dr Nandani Dohlipat spoke on various aspects of intellectual property rights.