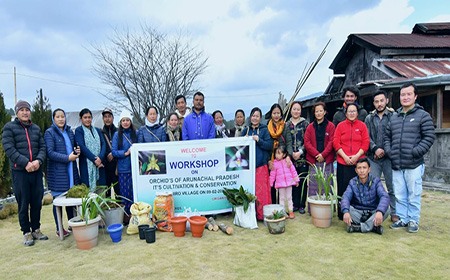 SIIRO, Feb 10: Twenty-three members of local NGOs like the Dutta Pyapung Conservation Club, the Dilyang Diibo Multi-Purpose Cooperative Society and the Keilya Multi-Purpose Society, Hija, and residents of various villages took part in a workshop on 'orchids of Arunachal Pradesh and its cultivation and conservation' at Siiro village in Lower Subansiri district on Monday.
Organized by NGO NgunuZiro, the workshop was aimed at providing training to the NGO members and youths in cultivation, propagation and conservation of orchids.
Addressing the participants, Orchid Society of Eastern Himalaya member, Khyanjeet Gogoi, suggested forming an 'Orchid Society of Ziro' for conservation and protection of the endangered species.
NgunuZiro chairman Pura Tama said the workshop was "one of the steps to promote community participation in conservation of the orchid, particularly in Ziro and the state as a whole."
NgunuZiro secretary Punyo Chada and member Hibu Tatu also spoke.