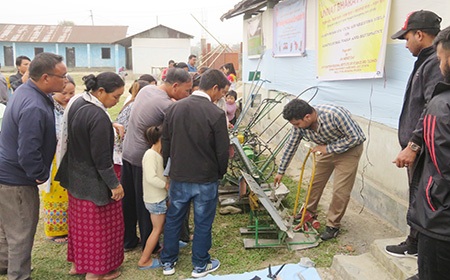 TIDGO, Feb 14: Thirty-five farmers from Tidgo and Nirjuli II villages benefitted from a 'Farm technology awareness-cum-demonstration mela' organised by the NERIST at Tidgo village in Papum Pare district on Friday.
The programme was aimed at showing the farmers improved technologies that would help them enhance their income, and developing linkage among the farmers and education/research institute.
Addressing the participants, principal investigator of the NERIST centre of the All India Coordinated Research project (AICRP) on Ergonomics and Safety in Agriculture (ESA), Prof KN Dewangan, stressed on adopting "the best working posture for minimizing work-related musculoskeletal disorders," while the regional coordinator of the NERIST cell of the Unnat Bharat Abhiyan (UBA), Prof P Lingfa, spoke on the role of the UBA "and how it can be linked to farmers in nation-building."
Junior Project Officer Surya Chhetry made audiovisual presentations on 'Ergonomic improved hand tools and equipment that are feasible in the region'.
In the mela, the NERIST's agricultural engineering department and the AICRP on ESA demonstrated improved hand tools and machinery for paddy cultivation, ladders for harvesting fruits, remote controlled power tiller, safety gadgets for daos and sickles, improved backpacks, maize sheller, and such.
Food technology expert AK Choudhary demonstrated how to prepare jam from oranges and apples. Later, 'improved NERIST sickles' were distributed among the participants.
The mela was sponsored by the Indian Council of Agricultural Research and the union HRD ministry.