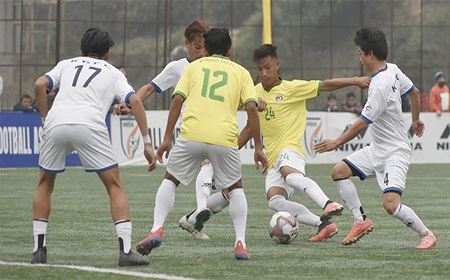 CHIMPU, Feb 14: Bamang Taji FC (BTFC) scored a goal in both halves to defeat Keyi Panyor FC (KPFC) 2-1 in the second match of the Indrajit Namchoom Arunachal League (INAL) played here on Friday.
BTFC captain Pura Bhai gave his team the lead in the 38th minute, scoring from a rebound ball. Hage Tallo doubled the lead with a well-placed header off a corner kick in the 57th minute.
Toko Tado netted the consolation goal for KPFC in the 75th minute.
Capital Complex FC will take on Kargu Kardi FC on Saturday at 2:15 pm.
Meanwhile, the organizing committee has deferred the commencement/timing of all the remaining matches by an hour to 2:30 pm from 1:30 pm.